Corporate Philanthropy
Contributing to the Resolution of Global Environmental Challenges through Forest Resource Maintenance
History and Objectives
In 1906, Nitta expanded into the Tokachi region of Hokkaido in order to gain access to a supply of Japanese emperor oak to use as a raw material for obtaining tannin, which was essential to the company's production at the time.
Over the next several years, Nitta acquired up to 30,000 hectares of forest, which it utilized for tannin and plywood production.
Nitta also did something which was unusual for the time. It planted fast-growing Japanese larch trees in an effort to preserve the forest area.
As a result of the government opening up land for farming after World War II, the amount of forest resources available to Nitta shrunk considerably. However, the company still maintains around 6,600 hectares within Tokachi Subprefecture. Today, following the ratification of the Kyoto Protocol, these forests are being continuously and actively developed as an effective resource for combating global warming. They are used to supply lumber for domestic production needs, to supply saplings for afforestation, and are being appropriately afforested and thinned.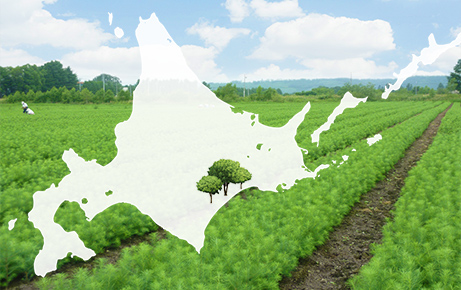 Sapling nursery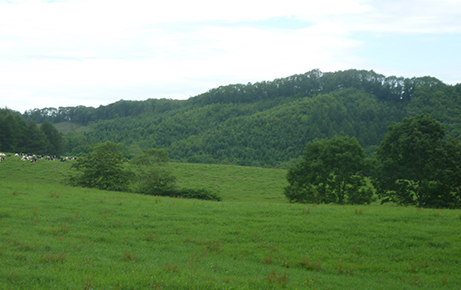 Afforested area
Forest Management Policy and SGEC Certification
Nitta treats the forested land that it holds as a resource with high public utility for all of society. In addition to serving as a renewable natural resource for lumber, these forests undergo constant and appropriate management and development in order to facilitate their functioning for the public benefit, such as water resource cultivation, soil erosion prevention, landslide prevention, and air quality control. Of the various benefits and functions provided by these forests, the one that has attracted particular attention in recent years are their ability to combat global warming by capturing and storing carbon dioxide.
Nitta recognizes the multifaceted social value these forests provide and has therefore established a forest management policy, which emphasizes long-term maintenance and conservation as an important corporate social responsibility. Additionally, in December 2008, Nitta was certified via the forest certification system of the SGEC* and continues to conduct sustainable forest management according to an SGEC-certified forest management program.*Sustainable Green Ecosystem Council: Oversees the implementation of a certification system created for the purpose of improving the standard of forest management in Japan in response to the problem of global deforestation and forest degradation and to the rise of green consumerism.
Forest Management Policy
Adhere to the basic policies on afforestation established by Hokkaido, and steadily execute them within a framework of future-focused forest resource conservation and sustainable forest utilization.
Sort man-made, company-owned forests into "resource recycling forests," "water conservation forests," and "humans and woodland coexistence forests." Undertake innovative efforts to improve the quality of each forest area such that it plays an indispensable role in functions that serve the public good, such as CO2 capture, water resource cultivation, and soil erosion prevention.
Undertake efforts optimally suited to the local topography and forest stand arrangement that will maintain and improve the functioning of natural forests for the public good.
With the goal of biodiversity conservation in mind, work to protect Hokkaido Red Data Book flora and fauna in company-owned forests.
Work in conjunction with the government and other organizations to actively promote future-focused forest development.
Adhere to the ISO 14001 and OHSAS 18001 basic policies, and strive for harmonious coexistence with the local environment and local communities as well as to protect the natural environment, taking fully into account the health and safety of workers.
Cultural Activities and Communication with Local Communities
Contributing to the development of local communities and cultural activities.
Nitta supports the efforts of the Koto no Ura Onzansoen (a public interest incorporated foundation in Kainan, Wakayama Prefecture) in operating and maintaining the grounds and buildings of this manor, which Nitta founder Chojiro Nitta landscaped and which was designated a National Site of Scenic Beauty in 2010. Nitta contributes to local community development (cultural property conservation) through the work of this foundation. It also contributes to cultural activities through the various events held by the foundation, such as the Doll Festival, Summer Festival, and Autumn Feast.
Please browse the Onzansoen's website for more information about Onzansoen.
Social Contribution Activities As a Good Corporate Citizen
Local Cleanup Efforts
Nitta employees join together with local government and residents to undertake various, annual cleanup initiatives around the company's office buildings and plants.
Although it seems like the volume of trash is getting smaller each year, there are still blind spots where large trash gets dumped.
Nitta will continue to work towards the beautification of local communities.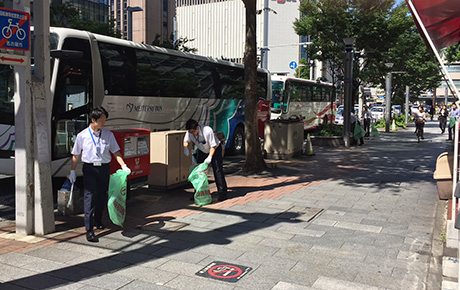 Cleanup activity around the Head Office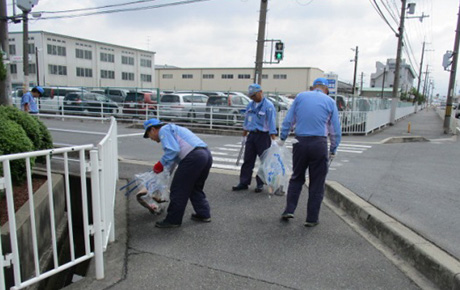 Cleanup activity around the Nara Plant
Supporting Blood Donation and Bone Marrow Donor Registration
Many employees in the Nitta Group regularly donate blood as well as take part in bone marrow donor registration drives. Nitta has put in place a paid, donor leave system to support donor candidates during the different stages of the donation process, such as when completing necessary paperwork, undergoing preliminary medical examinations, and arranging for hospital stays during marrow extraction. Also, while employees are on donor leave, their supervisors and other workplace colleagues actively pitch in to help handle their workload. Thanks to these support systems, multiple employees have already donated bone marrow.
Visit the Japanese Red Cross Society website to read more about Nitta's blood donation.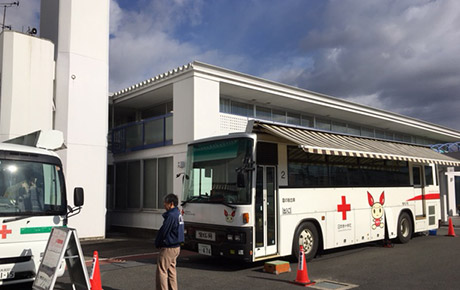 Other Initiatives
Card Collection and Donation ActivitiesNitta collects used stamps, pre-paid cards, and other varieties of cards and donates them to social welfare organizations and other groups.