Corporate Philanthropy
Contributing to the Resolution of Global Environmental Challenges through Forest Resource Maintenance
History and Objectives
In 1906, Nitta acquired a large area of forest in the Tokachi region of Hokkaido in search of Japanese emperor oak, which were used as the raw material for tannin, that was necessary for the production of products at that time.
Since then, while making effective use of its abundant resources, we have been actively working to maintain and preserve its forests, planting fast-growing Japanese larch trees.
Now, we currently owns approximately 6,700 ha of forests in Hokkaido, and is making continuous and active efforts to develop forests, which are important resources for the earth, by supplying timber, providing nurseries for afforestation, and tree thinning.

Forest Management Policy and SGEC Certification
Forests not only produce natural resources such as wood, but also have various public functions such as the protection of the global environment by absorbing and storing carbon dioxide and the conservation of biodiversity.
We considers the continued maintenance and conservation of its company-owned forests to be an important social responsibility. Based on this belief, we have established the "Company-owned Forest Management Policy" and is promoting activities to contribute to the "LIFE ON LAND" one of the goals set by the United Nations for the SDGs, while managing its forests in accordance with the certification standards and guidelines of the *SGEC , a forest certification system.
*SGEC(Sustainable Green Ecosystem Council): Oversees the implementation of a certification system created for the purpose of improving the standard of forest management in Japan in response to the problem of global deforestation and forest degradation and to the rise of green consumerism.
On June 3, 2016, SGEC was granted mutual recognition with PEFC, an international certification.
Company-owned Forest Management Policy
The Nitta Group, based on the "Hokkaido Regulations on Forest Development" and "Hokkaido Forest Development Basic Plan", through establishing and operating a far-sighted "Forest Management Plan" would like to bring out to the maximum multiple functions that forests have and contribute to global environment conservation and biodiversity conservation. For this, we do our company-owned forest management based on the following basic concepts.
1. We steadily execute the "Forest Management Policy" and establish a framework of sustainable company-owned forest utilization in order to aim for future-focused forest resource conservation / enhancement.
2. Based on the "Hokkaido Forest Development Basic Plan", we sort company-owned forests into "Water resource cultivation forests", "Mountainous disaster prevention forests", "Living environment conservation forests" and "Lumber, etc production forests". Then, we depict the ideal status of each forest, work on maintenance and undertake the efforts set out as follows, while taking into account biodiversity.

① Water resource cultivation forests
From the point of view of securing a stable supply of good-quality water, we promote appropriate fostering / thinning. Also, we develop understory vegetation and tree roots, and undertake efforts to reduce and disperse bare grounds which occur in accordance with logging.
② Mountainous disaster prevention forests
From the point of view of creating disaster-resistant local environments, we undertake efforts to reduce and avoid bare grounds of forest floors, while taking into consideration conditions such as terrain and geology.
③ Living environment conservation forests
From the point of view of conserving local comfortable living environments, we undertake efforts to make the following basic: building and maintaining forests that are effective for the protection of wind / noise, etc and for atmospheric purification.
④ Lumber, etc production forests
From the point of view of supplying forestry products such as lumber sustainably, stably and effectively, we do appropriate afforestation, fostering and thinning,etc according to plan, in order to bring forward lumber with species and radial grades in accordance with demands.
Also, when implementing plans, we promote effective maintenance by mechanization and also, through surely doing reforestation after clear-cutting, we thoroughly settle the reuse of forest resources.

3. We contribute to "Mokuiku" (Forest and Wood Education) that Hokkaido promotes, and we also maintain opportunities to observe and come into contact with forests or lumber to have stakeholders understand the Nitta Group's forest management.
4. Regarding maintenance / undertaking efforts, we sufficiently take into account securing the labor health and safety of workers, and also strive for harmonization with activities done by local and administrative organizations and protecting the environment.
Cultural Activities and Communication with Local Communities
Contributing to the development of local communities and cultural activities.
Nitta supports the efforts of the Koto no Ura Onzansoen (a public interest incorporated foundation in Kainan, Wakayama Prefecture) in operating and maintaining the grounds and buildings of this manor, which Nitta founder Chojiro Nitta landscaped and which was designated a National Site of Scenic Beauty in 2010. Nitta contributes to local community development (cultural property conservation) through the work of this foundation. It also contributes to cultural activities through the various events held by the foundation, such as the Doll Festival, Summer Festival, and Autumn Feast.
Please browse the Onzansoen's website for more information about Onzansoen.
Social Contribution Activities As a Good Corporate Citizen
Local Cleanup Efforts
Nitta employees join together with local government and residents to undertake various, annual cleanup initiatives around the company's office buildings and plants.
Although it seems like the volume of trash is getting smaller each year, there are still blind spots where large trash gets dumped.
Nitta will continue to work towards the beautification of local communities.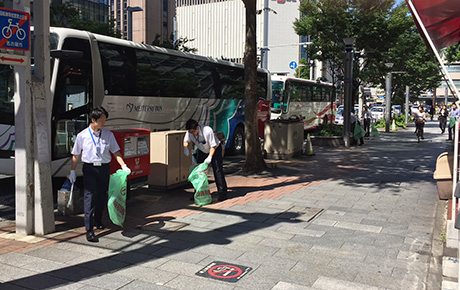 Cleanup activity around the Head Office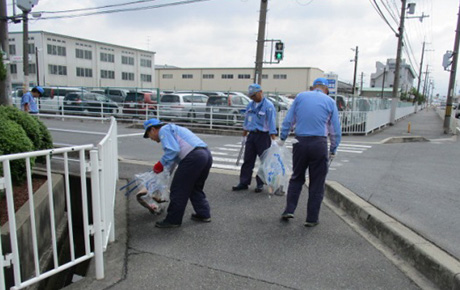 Cleanup activity around the Nara Plant
Supporting Blood Donation and Bone Marrow Donor Registration
Many employees in the Nitta Group regularly donate blood as well as take part in bone marrow donor registration drives. Nitta has put in place a paid, donor leave system to support donor candidates during the different stages of the donation process, such as when completing necessary paperwork, undergoing preliminary medical examinations, and arranging for hospital stays during marrow extraction. Also, while employees are on donor leave, their supervisors and other workplace colleagues actively pitch in to help handle their workload. Thanks to these support systems, multiple employees have already donated bone marrow.
Visit the Japanese Red Cross Society website to read more about Nitta's blood donation.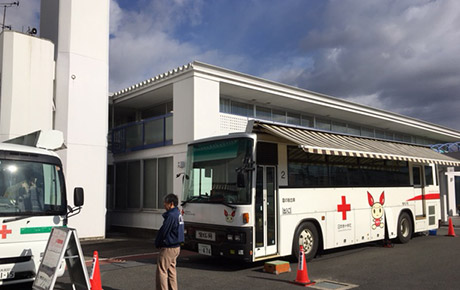 Other Initiatives
Card Collection and Donation ActivitiesNitta collects used stamps, pre-paid cards, and other varieties of cards and donates them to social welfare organizations and other groups.