Environmental Activities
Quality, Environmental, and Occupational Health and Safety Initiatives
The Nitta Group created the Nitta Group Code of Conduct, within which maintaining a quality management system (ISO 9001), environmental management system (ISO 14001), and occupational health and safety management system (ISO 45001) are clearly stipulated as part of the Group's CSR activities. Then, Nitta created "Nitta Group Quality, Environmental, and Occupational Health and Safety Policy". Moving forward, the Nitta Group will continue to pursue ongoing improvement in its quality, environmental, and occupational health and safety performance, together with activities that maintain a constant focus on compliance.
Nitta Group Quality, Environmental, and Occupational Health and Safety Policy
The Nitta Group shall effectively operate quality, environmental and occupational safety management systems as an integrated part of business activities, continuously seek ways of improving these systems, achieve system targets and objectives and comply with relevant laws, regulations and other requirements.
1. Providing High-Quality Products and Services

In order to ensure the quality of the products and services it delivers, the Nitta Group works together with customers to develop products which are both safe and environmentally-friendly.

2. Contributing to the Resolution of Global Environmental Challenges

In consideration of both the local community and the global environment, the Nitta Group works to reduce its environmental footprint via waste reduction and more resource and energy-efficient operations. Additionally, the Nitta Group pursues environmental conservation and antipollution initiatives focused on important environmental concerns like biodiversity and ecosystem protection.

3. Achieving Danger-Free Workplaces

The Nitta Group identifies occupational health and safety risks and pursues continuous improvements aimed at achieving danger-free workplaces.

4. Ongoing Revision and Improvement

In order to ensure the successful implementation of these policies, the Nitta Group uses objective goals and targets when putting them into action, conducts regular revisions, pursues continuous improvement, facilitates awareness among all employees and publicly discloses information related to them in response to outside requests.
Integrated: November 25, 2004
Revised: May 12, 2017
NITTA Corporation
Representative Director and President Yasunori Ishikiriyama
Quality Initiatives
In order to pursue ongoing quality improvement, Nitta acquired ISO 9001 (quality management system) certification in June 1998 and, then, transferred to the 2015 version (ISO 9001:2015) in January 2018.
As a company suppling to the global market, Nitta incorporates ongoing quality improvement into every stage from product planning and development to manufacture and sales, and undertakes efforts aimed at improving customer satisfaction.
Environmental Initiatives
Global Warming Prevention Policy
1. Nitta endeavors to reduce CO

2

emissions at all of its business and production sites in order to contribute to the fight against global warming.
2. Sites that use large amounts of energy are prioritized when carrying out CO

2

reduction efforts.
3. Nitta is expanding the scope of its CO

2

reduction efforts to subsidiaries, affiliates, and other related companies.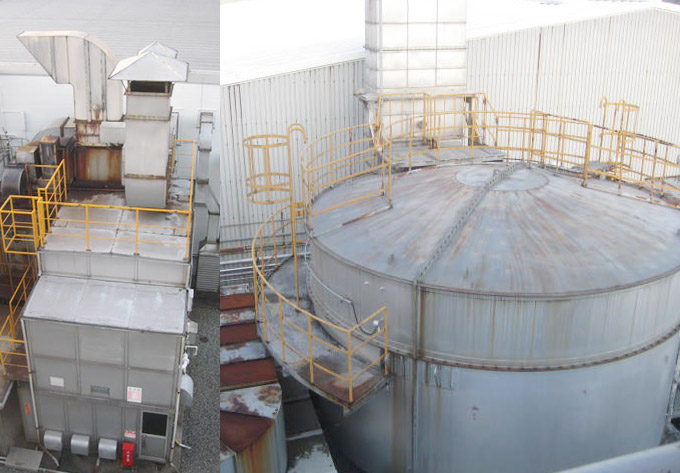 VOC combustion equipment
In order to promote environmental preservation efforts, Nitta acquired ISO 14001:1996 (environmental management system) certification in March 2001 and, then, transferred to the 2015 version (ISO 14001:2015) in January 2018. Nitta's environmental preservation efforts include energy and resource conservation, waste reduction, and VOC (volatile organic compounds [e.g., toluene]) reduction. Also, Nitta undertakes green procurement in line with the EU's chemical substance regulations (ELV directive*1, RoHS directive*2, REACH regulation*3) and works to be GHS (globally harmonized system of classification and labeling of chemicals) compliant.
*1 ELV directive: Directive dealing with the recycling and disposal of used automobiles.
*2 RoHS directive: Directive stipulating usage restrictions on specified toxic substances in electrical and electronic devices.
*3 REACH regulation: European Parliament and European Council regulation enacted in the EU that are concerned with the management of chemical substances in order to protect human health and the environment.
Occupational Health and Safety Initiatives
In order to reduce work-related accidents and injuries, Nitta put in place a risk assessment-focused occupational health and safety management system (OHSAS 18001) and acquired certification in January 2004 and, then, transferred to ISO45001 in January 2020. Nitta is strengthening its Safety and Health Promotion System through health risk reduction efforts by chemical substance risk assessment, and disaster prevention and Emergency response training for all types of disaster.
Establishment of "Safety Dojo"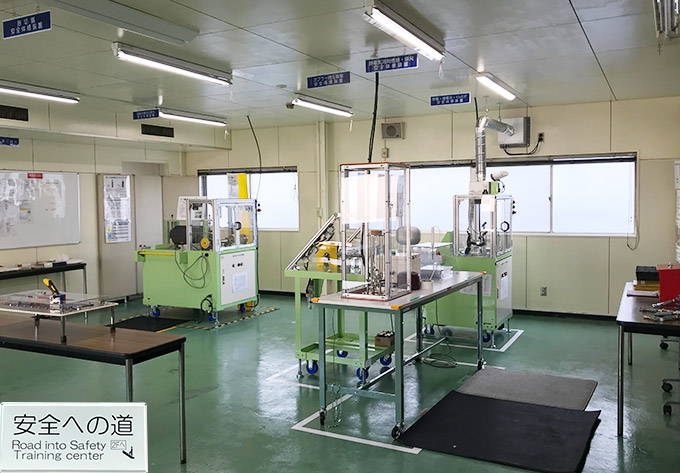 "Safety Dojo" was established at the Nara Plant in fiscal 2018. Nitta develop the ability to predict danger (sensibility) by experiencing fear and danger through the realistic reproduction of disasters that actually occur on the site using safety experience devices. It is used to raise safety awareness and establish and instruct safety measures.