Human Resource Development and Work Environment
Mutual Respect and Care Initiatives
Basic Approach
"Respect" is one of the fundamental values within the Nitta Group Mission and is put into practice through the principle of "respecting and valuing all people, leading to beneficial contributions to society and the global environment." In addition, the Nitta Group has incorporated the following provisions into its Code of Conduct and Action Statement, and it seeks to ensure they are put into action by fostering widespread awareness of them amongst employees and other relevant stakeholders.
Mutual Respect and a Comfortable Working Environment

We respect the diversity, personalities, and individuality of our staff and strive to build a work environment that is comfortable and takes safety, as well as physical and mental health, into consideration.

4-1 

We join forces as a team, recognizing each other as colleagues, without discriminating by nationality, race, gender, age, educational background, college affiliation, or position, to attain a working environment in which the abilities, ambition and cooperation of each individual is valued.

4-2 

We respect the human rights, personalities, and individuality of every member of our staff.

4-3 

We take thorough measures to eliminate harassment from the workplace, including behavior that discomforts others, hurts their dignity, puts them at a disadvantage, or is seen as a threat, and will strive to create a workplace where people can work with confidence.

4-4 

We do not engage in activity within the company to encourage others to join a political or religious movement.

4-5 

We work to secure a workplace environment that is hygienic, safe, and easy to work in.
Working in Cooperation with International Society

As we develop our business activity globally, we will respect human rights and international regulations, take both the culture and practices of nations/regions and stakeholder interests into consideration, and contribute to the development of the local nation/region's economy.

7-1 

We not only comply with international regulations and local laws, but also establish cooperation and trusting relationships with local companies when conducting corporate activities wherever of the world.

7-2 

We respect human rights and never discriminate based on nationality, race, gender, religion, and so on.

7-3 

We do not engage in illegal work practices such as child labor and forced labor, and do not allow our partners to engage in such practices.
Human Resource Development
Nitta respects the autonomy of its employees and provides challenging opportunities to motivated individuals as part of a human resource system focused on cultivating diversity.
Human resource cultivation is carried out chiefly through the following two programs, which are at the core of the Nitta Human Resource Development Program.
1.Career Development Program

This self-development program is undertaken independently and autonomously by employees.

2.Training Tower Program

This career development program provides participants with a variety of opportunities for skills development.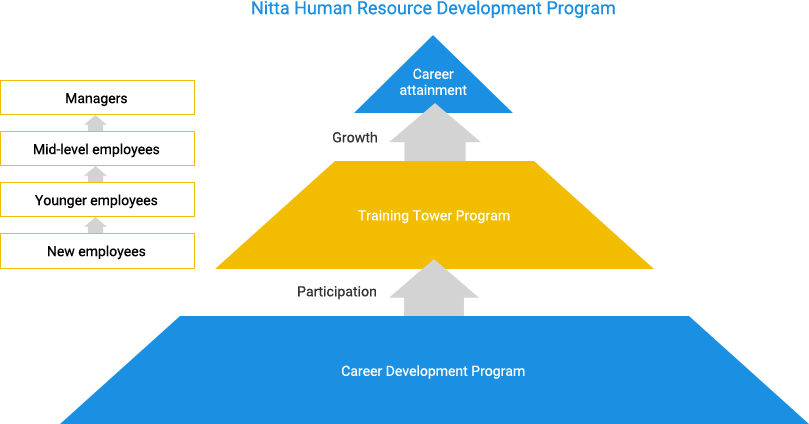 Nitta Human Resource Development Program
Workplace Vitality-Focused Initiatives
Based on the principle that human resources are a company's greatest assets, Nitta seeks to foster personnel capable of flexibly adapting to change and to provide a work environment where employees feel a shared sense of pride and joy in what they do.
An employee leave system that provides time off for childcare, family care, birthdays, and special incentives has been instituted to create a more employee-friendly work environment.
Nitta is also committed to ensuring that the employee-friendly character of its workplaces extends equally to employees with disabilities and, thus, promotes the incorporation of barrier-free designs in its plants. Currently, the number of employees with disabilities at Nitta surpasses the legally mandated employment rate. Nitta will work to maintain this higher rate.
Creating an Employee-Friendly, Safety-First Work Environment
In January 2004, Nitta acquired occupational health and safety management system certification (OHSAS 18001). In order to provide employees with a safe and accommodating work environment, Nitta conducts risk assessments at each of its business sites, establishes targets, and institutes a variety of activities and initiatives intended to influence the behavior of employees company-wide, all as part of ongoing efforts to achieve danger-free workplaces. In 2007, automated external defibrillators (AEDs) were installed in Nitta offices and plants, and employees were provided with instruction in their use.