V2020 Medium- to Long-Term Business Plan
Between 2012 and 2020, the Nitta Group is pursuing its V2020 medium- to long-term business plan. Nitta achieved its sales targets for both Phase 1 (fiscal 2012–2014) and Phase 2 (fiscal 2015–2017). Since the start of Phase 3 (fiscal 2018–2020) in April 2018, the Group has pooled its strength to meet the challenges of an era characterized by rapid and extreme change so that it can continue to produce sure and steady results with the V2020 plan while moving into a new phase of growth.
NITTA GROUP Ideal Image
No.1 Global Partner in 'Composite Technologies' of Soft Materials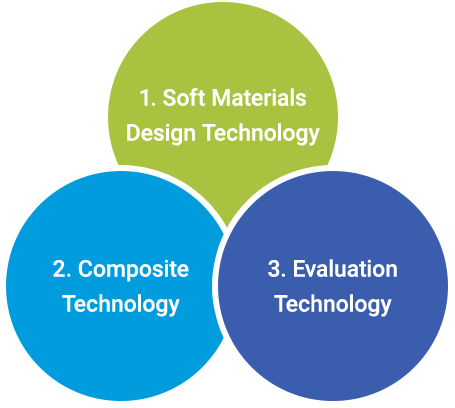 1. Soft Materials Design Technology

 

・Rubber and resin formulation technology
・Synthetic resin (urethane, acrylic) technology
・Nanomaterials development
・Assorted adhesive materials design technology
・Ink design technology

2. Composite Technology

 

・Rubber/canvas composite integration
・Adhesive and sealant technology
・Multilayering technology
・Extrusion molding technology
・Detachable mechanism design
・Nano-dispersion and adhesion technology
・Precision coating technology
・Anti-pollution technology

3. Evaluation Technology

 

・Material mechanics characteristic evaluation
・Chemical composition analysis
・Rheology characteristic evaluation
・Cleanliness evaluation
・Sensor characteristic evaluation
・Assorted endurance testing
・Dynamic evaluation (belts, hoses, etc.)
V2020 Three Challenges for Phase3
1.Create and develop NEW markets and products

・Create NEW markets and products by promoting NITTA INNOVATION activities
・Develop new business fields and maximization of synergies within the NITTA group
2.Drive comprehensive management for global business

・Strengthening the NITTA brand
・Promote global human resource development
・Strengthening corporate governance, compliance and risk management
3.Become more cost-competitive

・Innovation of production technology
・Develop KAIZEN activities of work sites
・Promote bold business reforms and efficiency improvement
V2020 Sales and Earnings Targets (Consolidated)
In 2020Y, the final year of the Medium- to long-term management plan, we will aim to achieve revenue of 100BJPY, an operating margin of 8%, and a new business/new product sales ratio of 25%.