NITTA Group Mission
This section introduces the NITTA Group Mission, values, and principles.
NITTA Group Mission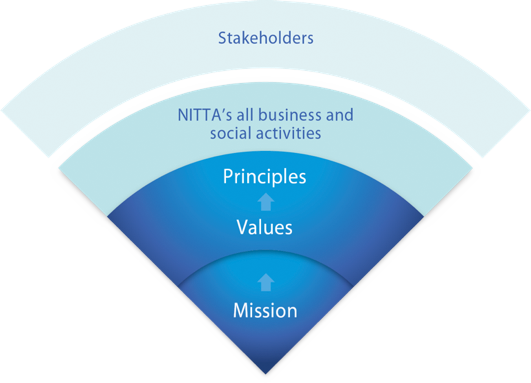 Mission
The roles of NITTA Group towards customers and society

Values

Thinking and mindset of all NITTA Group
associates to actualize our mission

Principles

Action of all NITTA Group
associates to actualize our mission
Passion

Driving positive change through the relentless pursuit of excellence
Innovation

Shaping the future with creative ideas and products
Integrity

Exceeding customer expectations through individual dedication
Respect

Respecting and valuing all people leading to beneficial contributions to society and the global environment
Nitta Group Logo

The curves of left mark extending lithely express the global expansion of NITTA group and the harmonious relationship with various stakeholders.
Corporate Symbol

Nitta started operations in 1885 in Osaka. The founder's goal was "to manufacture with our own hands products that cannot be available in Japan." After many years, this same concept still defines the businesses of Nitta. Our mission is to capture leading market shares in new business domains as we work closely with customers and suppliers based on the spirit of "Invention & Innovation." The Nitta Group remains dedicated to achieving more growth and progress on a global scale.