To be of use:
This intention drives our technical innovation.
Throughout our over 130-year history, NITTA Corporation has remained committed to "being of use to customers and society".
We are making a difference in industry with our adaptability to changing times, and our spirit of invention and innovation to keep creating items that can improve factory floor operation.
At the Nitta Group, our goal is to continue to make a broad and far-reaching contribution to society by delivering future-oriented products that facilitate people's happiness.
Nitta Group Mission
We have adopted "NITTA Group Mission" as our vision for our business activities.
Mission

We have set out the following four values as the thinking and mindset of all NITTA Group associates, and their associated four principles as the specific actions for actualizing our mission.
Values
Principles
PASSION

Driving positive change through the relentless pursuit of excellence
INNOVATION

Shaping the future with creative ideas and products
INTEGRITY

Exceeding customer expectations through individual dedication
RESPECT

Respecting and valuing all people leading to beneficial contributions to society and the global environment
NITTA Logomark
NITTA Group Mission Chart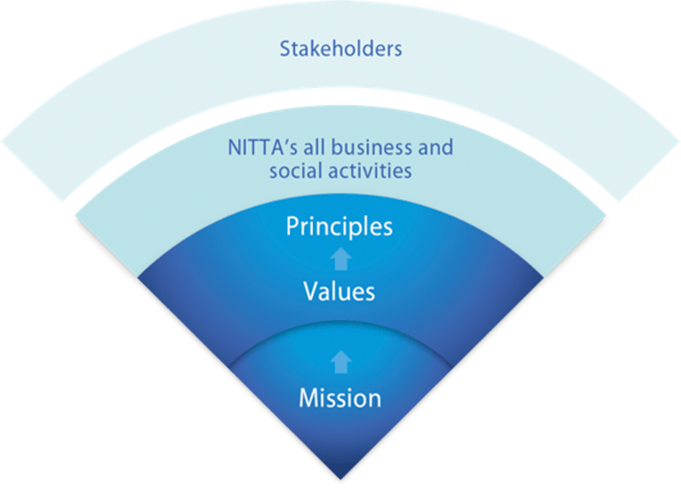 With a firm focus on the NITTA Group Mission as our foundation, each associate will proactively work to realize these principles in their daily work, encompassing all of our business activities. NITTA strives to bring satisfaction to our customers, society and all other stakeholders through the individual dedication of each Group associate.

Invention, Innovation, Harmony
Nitta founder Chojiro Nitta often described the spirit of invention, innovation, and harmony as the mother of business.
This section introduces some episodes from Chojiro's life.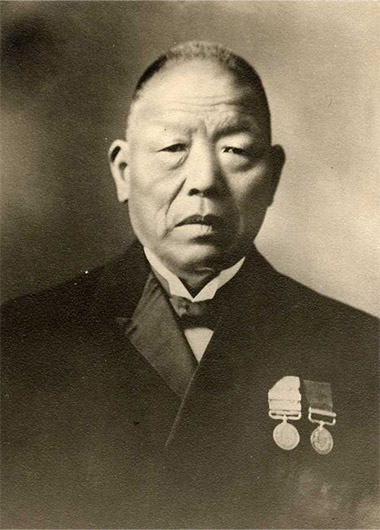 Chojiro Nitta (May 1857–July 1936)
It was during the turbulent transition from the Edo period to the Meiji period that Chojiro Nitta, who saw the development of industry as Japan's lifeline, launched an industrial belt business in Osaka. Chojiro held to a number of beliefs on invention and innovation throughout his life—that Japan should produce those things it lacked for itself, that technology had the potential to improve without limit, and that it was important to encourage all employees to come up with improvements. He also wished to create a corporate culture founded on harmony in order to foster the free exchange of ideas. This philosophy of "Invention, Innovation, and Harmony" has been passed down through the generations at the Nitta Group and continues to live on today.
Episodes from the founder's life

Advancing technology in line with changes in the times
This section introduces timeless Nitta products that convey our founder's philosophy.
Chronology
"Being of use to society".
A journey of progress together with customers
Second half of
the 19th century
Second Industrial Revolution
Advent of mass production through the electrification of factories
Nitta becomes the first Japanese company to successfully manufacture leather power transmission belts.
The belts support the major industry of the time (textiles).
Nitta launches Polybelt, a rubber power transmission belt.
Nitta develops belts made from new materials to accommodate the evolution of production machinery.
Nitta Group launches timing belts (currently sold by GUA) and thermoplastic hoses and tubing.
Nitta introduces new technology from overseas.
Nitta launches the Super Endless Belt for use in precision power transmission and conveyance applications.
The new product makes possible high-speed, precision power transmission and conveyance.
Nitta Group launches polishing pads and slurries (currently sold by NITTA DuPont Incorporated).
Nitta introduces new technology from overseas.
Nitta launches an automatic tool changer (ATC).
The new product makes possible multi-tooled robotic machining.
Second half of
the 20th century
Third Industrial Revolution
Automation of manufacturing with computers
Nitta launches a pressure distribution measurement system.
The new product is adopted in a broad range of fields thanks to its pioneering pressure-sensing technology.

As a global company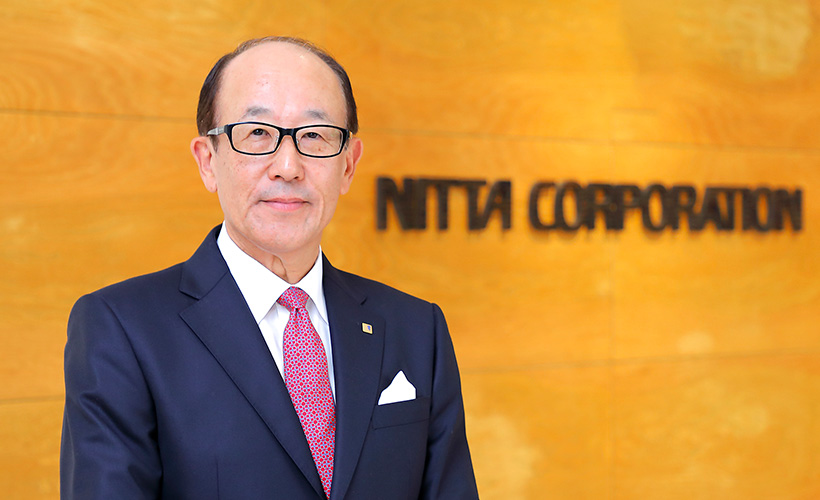 Nitta products and services have brought to life an array of dreams in manufacturing.
Going forward, we will continue to work for a better future in growth areas such as the environment, healthcare, mobility, robotics, and electronics.
What do customers and society need? What functionality would better contribute to human happiness? These are our priorities as we look to contribute to the future by providing innovative products.